Definitely, the above-captioned subject with a big question mark does not emanate from some of us who have access to and can afford to pay for an adequate supply of potable drinking water and who have the luxury to splurge in the use of other related daily water requirements. Rather, the said plea comes from those who are facing water scarcity or even the lack of it in their homes, in their communities, or in other parts of the globe.
With the current high water tariffs, the water-borne related deaths and problems worldwide affecting our environment and personal health, we can't just sit down and ignore, but instead do something about it as water is such a very important commodity from the time it was linked to health issues. I said commodity because it's no longer free of charge, it's being traded for mankind's consumption. Gone are the days when our forefathers were privileged to have plenty of free water as long as they want. Once again, gone are the days when our forefathers can save water from the pouring rain, safely drink and use it for their day to day needs. Nowadays, we can't use anymore rain water as it may be acidic and could be harmful to us and the environment. In order to get safe water these days, we have to go out of our way, have our homes installed with legally authorized water meters monitored by public or private water distribution companies, only for us to receive a bill at the end of the day! While water, in itself, would be forever a natural resource, it would no longer be served on our tables for free anymore. We have to pay for it to have better health and for survival. We can't go on living without water, it's a very basic essential human need. We will all expire if we don't drink water, if we don't take a bath, if we don't have water to clean our surroundings and the like. But, not everyone of us could have access to water, which is a basic vital need and helps sustain life, much more if it's clean and inexpensive. It is for this reason that the said plea to spare a glass of water for those in dire need is something worth pushing for.

UN-MDG Goal 7.c. envisions that by 2015 the proportion of the population without access to safe drinking water and basic sanitation would be reduced by half. UN fact sheet currently shows that there are 884 million people who lack access to clean water and nearly thrice of which (2.6 billion people comprising 39% of the world's total population), don't have appropriate lavatories and toilets. ADB (Asian Development Bank) data indicates that approximately 580 million people have no access to safe water supply in Asia, while AfDB (African Development Bank) data estimates that 300 million Africans have no access to safe drinking water. Assuming the UN figures are accurate, it can be deduced that almost all of the 884 million people who have no access to safe drinking water are accounted for by Asians and Africans. With the UN MDGs target by 2015, and with positive thinking and strategic action plans in tow, hopefully an additional 442 million people will be given the opportunity to avail of clean water to safely quench their thirst! Not bad, right?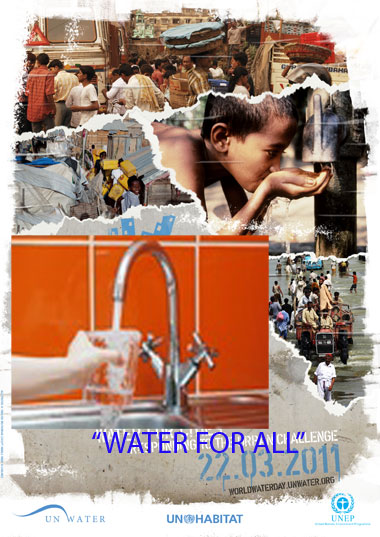 The above statistics are no longer new to us. As mentioned in myusefultips earlier blog articles, the residents in developing and underdeveloped countries are those facing hard times coping up with the current water crisis. You are a little bit fortunate if you happen to live in urban areas of the said countries as improvements in water infrastructures have already been introduced. But what about those in far flung areas where simple water wells are not even erected? Yes, these could probably be the places where the water related deaths came from. As mentioned by the experts in water.org, one of the non profit organizations advocating access to safe water and sanitation, more than 3.5 million people die each year from water-related diseases, of which 84% are children and that 98% happen in developing nations. Yes also, these are the very same people who live below the poverty line (having $1 or $2 daily income benchmark) who are much affected with the said discomforts in life.

The water crisis is felt not only in developing economies but also in advanced nations but only from a different angle. The United States, for instance is one of the best examples where water related infra and technology have been experimented and become successful. New York City is an example which has good quality in drinking water. As a matter of fact, it is one of the large cities in the US which is no longer required to filter its water, based on the US Environmental Protection Agency standards. However, there is a catch to this. The residents pay for the good quality. For 2011, a typical New York single family home will have to pay about $800 per year for water and sewer bills while an average multi-family unit pays for about $500/year/dwelling unit. Said water rates have been increasing time and again in all U.S. states and the reasons are varied: either due to operational expense, construction and maintenance of water utilities. But even with the state of the art technologies, some of its residents especially those in the lower bracket are likewise feeling the hit of the problem, so to speak. There are times that water supply are being cut off due to unpaid bills. Just as I said, water is no longer free for all, especially for the poor!

In the recent drought being experienced in the horn of African country, one of which is Somalia, the United Nations through its Office for Coordination of Humanitarian Affairs, appealed from all concerned groups for funding to assist the famine stricken areas with about 12 million affected people. We have seen so many photos and videos of what's happening in said areas. I have seen myself via telecast a woman carrying her child, suffering from severe malnourishment, and feeding him with water placed in a cellophane. That photo shown thru a local tv network was too excruciating to see that I told myself to be more sensitive in the use of water. The picture below which I temporarily used is equally agonizing on their part , even if the mother utilized a glass or mug to feed her malnourished child.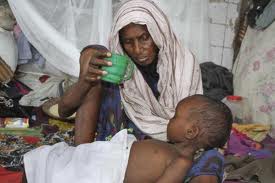 Sometimes, we ask ourselves. How come all these things are happening in poorer areas? Some say, it's due to climate change, some say it's political and armed conflicts, while others say it's purely the economic situation in said regions. But regardless of the reasons behind it, our concern should be more on what help could we offer There are times, we ignore these calls for help as we seem to have been "immuned" to various forms of disasters everywhere. But not this time. So, how can we help them avail this right to drink water? How can we spare a glass of water to these children?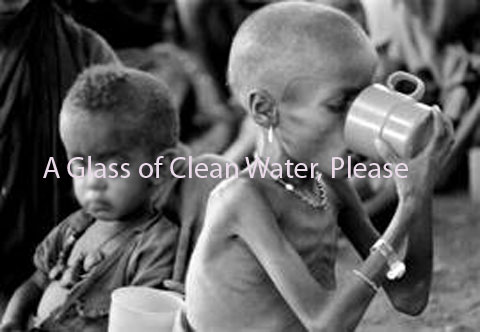 Oh, there are various ways and means to assist those in authority. You know what I mean. It's not easy but surely you can. Please?