Singing Christmas Carols? Has anyone of you experienced this before?
As Christmas day is almost upon us, I would like to share with you my nostalgic recollection and happy memories of Christmas carols when I was still small. Some of my siblings, friends and I would go practically from door-to-door of our neighbors singing Christmas carols. After school, we gathered at our house and practiced the songs with so much gusto. Innocent kids as we were, there were instances where we simply couldn't pronounce the words very well and it was so funny as most of the times, we butchered the lyrics of the songs, specifically Jingle Bells, Silent Night, Joy To The World and Whispering Hope! We were already resourceful at that time, we brought along our toy tambourines, improvised maracas or just a plain tin can or a bottle of a famous brand of soda/soft drinks with a piece of stick which serve as our accompaniment. Normally, the consolation and reward depended on the economic status of the family. There were times we get a pack of candies, chocolates, biscuits or cookies or if we're lucky enough some paper bills and coins, otherwise we would only get a simple "thank you" with a smile, a plain "sorry, come back next time" or a lights off and a no response at all!. While the most important thing was the joy of singing and being with friends, the tangible reward however made it more appealing and it was sort of an achievement on our part! Oh, those were the days my friends but the thoughts still linger!
Caroling is truly a wonderful tradition in almost all of the places celebrating Christmas, particularly in the place where I came from. In the U.S., caroling is also being undertaken by certain groups but it is more on a professional level. You don't see kids going from house-to-house for caroling here. As a matter of fact, before going to a particular family or an organization, there is a need to seek prior clearance for them to carol. You can't just walked into and intrude their privacy. As such, there's quite a big difference in embracing this beautiful tradition!
My friends had a ready roster of families and non-profit organizations (e.g. nursing homes, veterans group, retirement homes, etc.) to carol during weekends, as all of them are career oriented individuals (e.g. doctors, nurses, people in the academe. office workers,etc.) and therefore are pre-occupied with their respective professional lives during weekdays.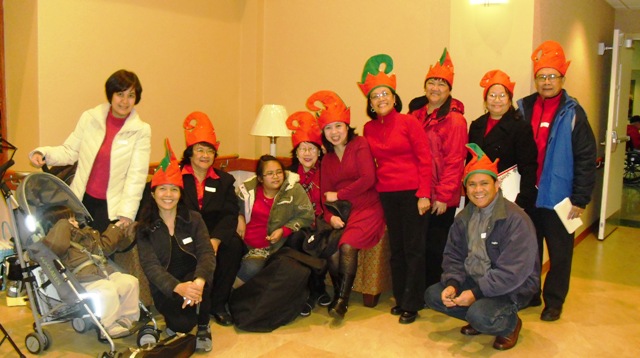 (photo property of myusefultips.com)
I had the chance to go with them and experienced my very first time caroling in NYC for fund raising reasons. It was like a mini concert performance actually with our color red and black attire with matching elf hats.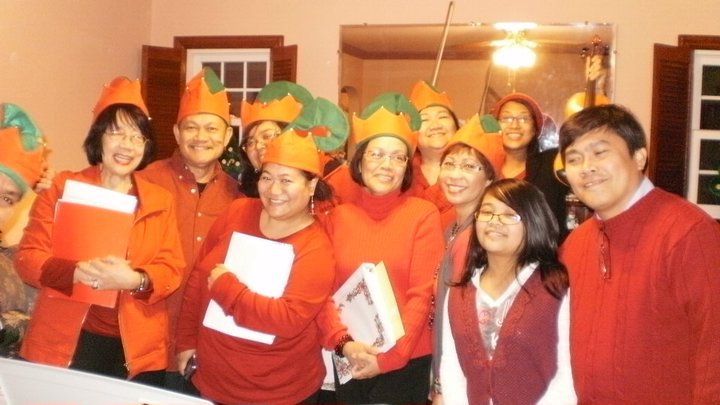 It was both fun and a sacrifice for all the carolers. I say fun because of the festive mood whenever we started raising full voices in songs to the delight of the audience! I remember there was one old man in a wheelchair who commented after the performance, "Oh, I have to wait for another year again to watch and hear your beautiful songs and voices! Then he waved goodbye at us, misty eyed, and said "Keep on singing!" That was a touching scene for me! Similarly, the families where we visited warmly welcomed and treated us with sumptuous delicious dinner and they get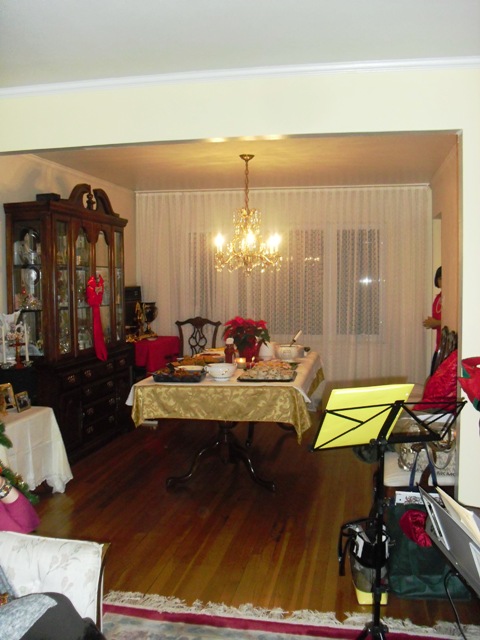 get the chance to sing with us too. (photos property of myusefultips.com)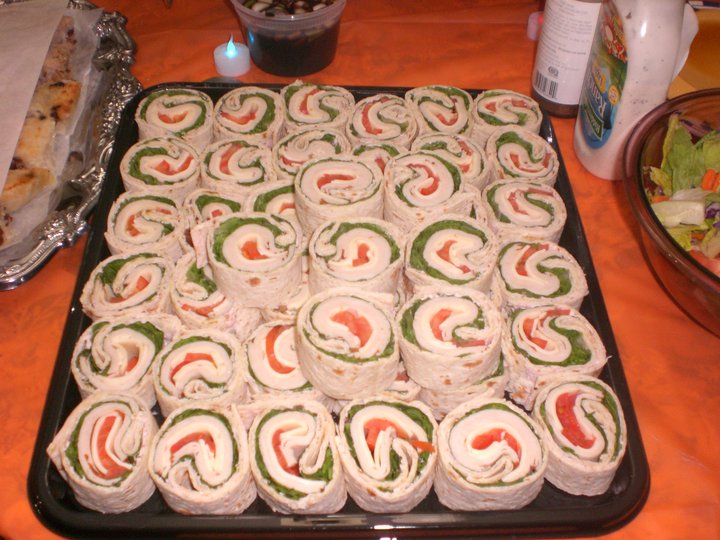 They also look forward to seeing us again next Christmas season! What a way to compliment!
A sacrifice because it means the carolers have to forego rest and leisure time, brave the chilly windy nights, go home late and set aside family bonding time during weekends just to accommodate caroling schedules. It was also real fun and fulfilling as apart from making people happy, the proceeds are either donated to the church for humanitarian purposes or utilized for the group's prospective worthy projects.
Indeed, caroling is one great way of spreading the spirit, love, peace, joy and kindness during Yuletide season.
I hope with the fun and amazing experience I had on the subject, you'll now be convinced to also join caroling groups in your locality either this year (it's not that late yet) or probably plan for next year's caroling festivities.
Caroling is truly a worth keeping tradition regardless of where ever we are in all corners of the globe! Greatly appreciate receiving your thoughts on this.