FEATURED ARTICLE
By: W. Illana*
Now in its 4rth year of organizing bowling tournaments, the Cagayan de Oro Misamis Oriental of New York, Inc. (CDO MIS-OR NY, Inc.) hosted its annual bowling event for 2012 on Sunday afternoons (March 25th -April 8th) at the famous AMF Lanes in NYC. Considered as one of its fund raising efforts, the said event was held to augment the needed financial requirements for the Association's forthcoming charitable projects. The fun and excitement were merely secondary but it turned the event even more successful making the members, participants, invited bowling enthusiasts and guests to actually enjoy the game.

The said event was not only spearheaded by one person but by everyone in the Association. The officers, board of directors (BOD), members and guests were actively involved which made it a community sport. There were 14 teams with various color name titles and their respective team captains, as follows:

1.Azalea – Fe Lacang

2.Black – Marlon Valcurza

3.Blue – PP/BOD Tommy Ludena & Larry Docdocil

4.Fuschia – Wennie Bahian Illana

5.Green – Kelly Rena/Payag Restaurant

6.Gold – Quinn Aranez

7.Maroon – Emma Ludena

8.Orange – VP Gina Espininosa & BOD Vangie Legaspi

9.Purple- Cecile Maquiling

10.Red 1 – BOD Josie Neri

11.Red 2 – BOD Josie Neri

12.Safeth Green – BOD Lisa Ramirez

13.White – Vicboy,

14.Yellow- Pres. Rely Manacay.

Each team had 6 members or more wearing t-shirts with their color uniforms, respectively which cost $15.00 each. Registration fee for each member was $10.00 only.
For this year, BOD Vivia Roa who is also the Chairman of the Sports Committee took the overall supervision with Emma Ludena as the Sports Coordinator. The Finance Committee (BOD Eddy Aranez, Fe Lacang) closely coordinated with the Prizes Committee (VP Gina C. Espinosa, BOD Vangie Legaspi, BOD Josie S. Neri) and the Working Committee (Alice Manacay, Quinn Aranez, Vicky Pagaduan, Lolit Canasares and Denah Credo) to oversee the logistics and funding requirements. Snacks and refreshments poured in giving the participants the needed energy to aim for a strike or a spare, particularly to jump and shout out for each victory.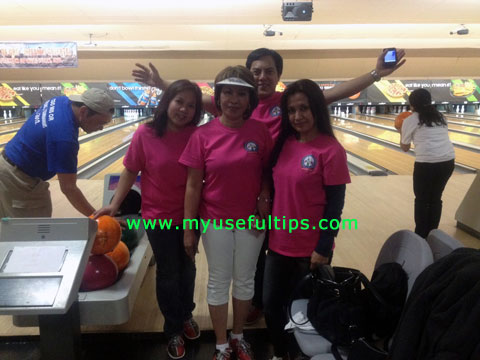 Snacks were donated by VP Gina Espinosa, BOD Vivia Roa, BOD Rosita Mejia Richman and Bebe Galez. Quinn Aranez who served as the Association's official sports photographer was there to visually document the entire event and his effort was greatly appreciated.

Everyone looked forward to the last Sunday of the game as the winners will be announced and awarded with certificates and prizes. Donations for the prizes came from PP/BOD Tommy and Emma Ludena, Payag Restaurant, VP Gina Cabesada Espinosa, BOD Wennie Bahian Illana, BOD Sammy Somo, Dr. Paul Pardillo, Bebe Galez, Larry Docdocil and Nap Bernardo of California.

The Awarding Ceremony started with giving out of Certificates of Appreciation to the 14 team players, the Chairman of the Committee on Sports, Sports Coordinator, Finance Committee, Prizes Committee and the Working Committee. It was followed by the awarding of prizes to the following winners:

First Prize plus trophy – Red 2 Team led by BOD Josie Neri– Cash Prize of $500.00

Second Prize plus trophy – White Team led by Vicboy – Cash Prize of $300.00

Third Prize plus trophy – Maroon Team led by Emma Ludena – Cash Prize of $200.00

Special thanks of appreciation were given to all the officers, BODs and members who have actively supported in the said event.

Everyone loved the game and it was a great way not only to fund raise but also to boost the player morale and to foster camaraderie among the members. As the last Sunday of the tournament was coincidentally Easter Sunday, each team appeared to have been refreshed with renewed heart and spirit, just in time to celebrate and glorify Jesus Christ's Resurrection.
* The writer is currently one of the Board of Directors of CDO-MISOR Association of New York, inc.